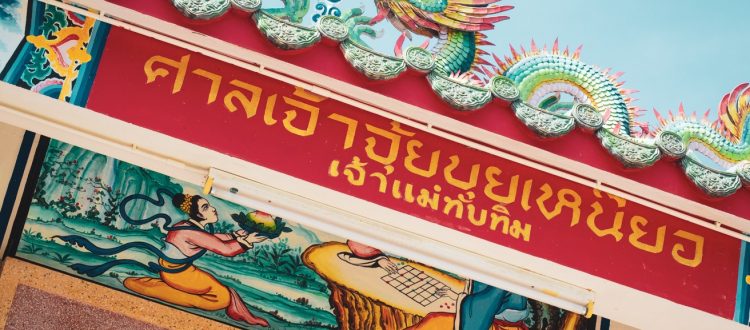 Ruby goddess temple is the name that Thai people of Chinese descent call Goddess of the ocean Which this god is Linmo Niang Who helped the sea people after she had gone to heaven It is said that Chinese people who live fishing on the coast of the South China Sea. For thousands of years
....................
For the Thapthim Goddess Shrine in Rayong province, construction began in year 2017. 1878 to enshrine the ruby ​​goddess and sacred objects Which is the worship of # Rayong people
Which the official name is Tui Boi! Located at #Yomchinda Road, in which the first phase was Mr Kuiyot Sae Ui and Mr. Kui Tong Sae Tan are the people who believe in creating
Later, in 1905 Has renovated the new shrine by constructing concrete.
In 1967, the shrine was restored, with a resolution to buy land adjacent to the east. In order to build a gate for the shrine

In 1985, a waterfront pavilion was built. And named the Ruam Chai Pavilion

Until 1992 Has approved the purchase of land in the west for the annual event of the court and to provide various benefits to the public as well
....................
Travel from Crystal Jet Hotel
Go to Thapthim Goddess Shrine Takes about 10 minutes
Or a distance of about 2 kilometers
.
.
#โรงแรมคริสตัลเจต #ระยอง #ที่พัก #ที่พักระยอง #ผลไม้ระยอง #โรงแรมระยอง #เที่ยวระยอง #วันพักผ่อน #ห้องพักราคาพิเศษ #พร้อมเสิร์ฟอาหารเช้า #rayong #crystaljaderayong #hotel