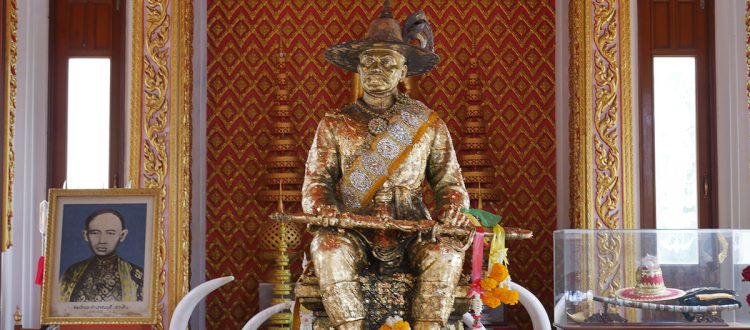 Shrine of King Taksin Historical places in Rayong Province
Shrine of King Taksin Historical places in Rayong Province
I believe that many people would already know that Rayong Province. It is one of the major tourist attractions in Thailand. Since it is a province that is close to the seashore, there are many beaches, including many islands such as Koh Samet, Koh Talu, Mae Rumphung Beach, Khao Laem Ya National Park, etc. These places are all important tourist attractions. There are many tourists who come to visit.
But I believe there are many others as well. who still do not know that Rayong also has important historical attractions as well That place is "The Shrine of King Taksin the Great"
Shrine of King Taksin the Great located inside Lum Mahachai Chumphon Temple, Taksin Road, Tha Pradu Subdistrict Mueang Rayong District, Rayong Province, first built in the year In 1934, the person who built it was Mrs. Thongpan Phusuwan, who was the wife of the head of the post and telegraph office at that time. Because Mrs. Thongpan had a dream that King Taksin came to visit and said that there was no residence, Mrs. Thongpan therefore went to consult with the abbot. Wat Lum Mahachai Chumphon He suggested that this shrine be built. At first, it was just a small one-story wooden house and enshrined a statue of King Taksin the Great in a standing position.
In the year 1960, the abbot at that time cast a statue of King Taksin the Great rise again But this time, the royal figure is sitting. Life-size, when in 1964, a new court was built. The building was made of reinforced concrete in the Thai style with open tetrahedrons on all 3 sides, which was of a suitable size and more beautiful than the original one. Inside looks beautiful and peaceful. There was a wind blowing through all the time. The ceiling is bright red with the golden Kanok pattern that decorates it all around. In addition to having a statue of the Buddha inside There are also helmets and swords that the villagers bring as vows when their wishes are fulfilled. Each day, there will be many people come to pay respects to pay homage to him in restoring the independence of the Thai land. as well as come to ask for blessings to fulfill their desires in troubled matters
From the word that has been told that King Taksin the Great Used to come to stay in Rayong before gathering troops and moving an army to Chanthaburi. In front of the shrine, there is a large Sa Tue tree that is over 300 years old, which is assumed to be the area where King Taksin the Great. Used to bind the elephant and leave the government. At present, the Sa Tue tree is very large and spreads its leaves and branches all over the area around the shrine. make peace for those who come to pay respects Shrine of King Taksin the Great This shrine is therefore a historical tourist attraction in Rayong that is regarded as one of the most important sacred places. In front of the entrance to the shrine, there are two pairs of elephant statues of King Taksin the Great, namely Phang Khiri Banchorn.
In addition, within Lum Mahachai Chumphon Temple It also has a beautiful church and a statue of the goddess Guam. Adjacent to the bell tower as well.
Business hours: 6:00 a.m. to 6:00 p.m. Open for worship every day.
Location: Shrine of King Taksin the Great Lum Mahachai Chumphon Temple, Taksin Road, Tha Pradu Subdistrict Mueang Rayong District, Rayong Province, about 500 meters from Highway No. 3 (Sukhumvit Road).